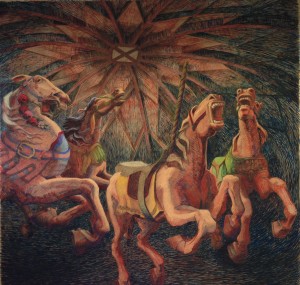 Oil and pastel on paper, 90″ x 90″
June 2015
This composition evolved from the lithograph of the same title. Although the horses are of a corresponding configuration (flipped in the lithograph due to the nature of printing), the architecture is used in this image to emphasize the circular motion of the carousel. The focus is on energy and movement, accentuated by mark making. The force of the horses, the futility of screams which no one hears, demands expression in a large format. These creatures emerge out of the darkness and chaos that surrounds us, moving ever forward but going nowhere.
The horses on the left side of the carousel were drawn from a 1905 Stein and Goldstein horse and a 1910 Carmel carving, from the Running Horse Studio Collection. Herschell carvings from the Santa Barbara Carousel are the basis for the horses on the right side of the image. The architecture can be found at Griffith Park in Los Angeles.
This image was awarded first place: Made in California Juried Exhibition, City of Brea Art Gallery, 2016.