Excerpts from my Journal: Part 4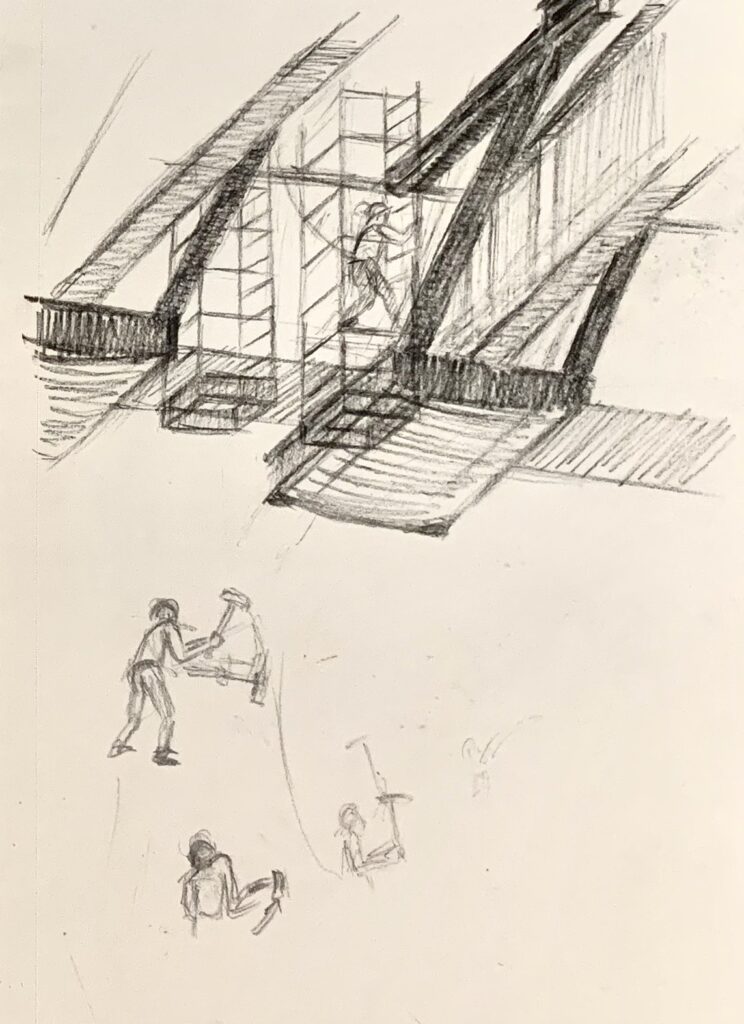 There has been a lot of curiosity about what we are doing and enthusiasm for our project. Every day, one or two workers stop by to see our work. On some level, our project is a validation of their project, or at least a confirmation that the public appreciates this tremendous job they are doing. Bob said it eloquently:
"I have said in the past the geometric design of the towers was the essence of form meeting function. [Building the towers from the bottom up] We came up with the octagonal design that goes from eight sides to a four-sided diamond because we wanted to have only four sides varying in width for the ease of forming the concrete placements. We did not realize how aesthetically pleasing the tower design would be. These paintings also demonstrate the power of form meeting function."
Many of these guys have families and travel long distances to get to work. Shifts start at four or five a.m. and end at one or two p.m. unless there is a deadline to be met, in which case they keep on working! They are all union, so they are paid for their expertise and the dangers they subject themselves to every day at work. They are paid overtime. It appears they enjoy their work and take pride in doing it well. This is how it should be for every job, a fair exchange of quality labor for good benefits and a living wage.
They are not supposed to take pictures at work, but they have breaks and who can resist? Some have taken fabulous photographs. We want to include them in our final show: Art on the Bridge. (Two of the men chose to participate: Paul Trinidad and Nick Santa Ana.)