Showcase
Watercolor, tempera, string, on a wood base with a plexiglass cover, 2019. 14″ x 19″ x 8.5″ deep. (See blog for more detail.)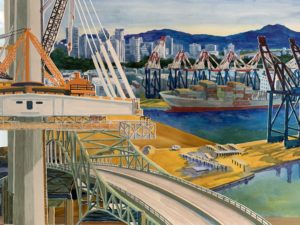 These are small drawings and paintings done on location at the Gerald Desmond Bridge Replacement Project throughout 2018 and 2019. Materials used include tempera, watercolor, walnut ink, Inktense, pastel, and charcoal. See the blog for more information about the project.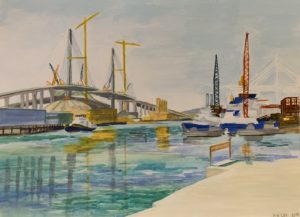 Once located in the LA Harbor in San Pedro, the Japanese fishing village is no longer there. The owners and residents were victims of forced relocation to concentration camps during WWII. Currently there is a monument in their honor which gave me a nice place to set up my painting gear. These images, a tempera […]
Oil on canvas, 2019. 46″ x 60″
Oil on canvas, 2019. 48″ x 48″ Jasen wanted to explore his masculine and feminine selves in our collaborative painting. Originally he wanted to make a costume that was literally half male and half female, but that never materialized. So we decided to use a mirror image and we literally started with a mirror. However, […]
Tempera and pastel on paper. 29 x 21″, 2018.
Tempera paint on paper. 39 x 25″, 2018.
Quill pen, ink, colored pencil, 18″ x 24″ Summer, 2016. Donor's Choice Honorable Mention, Ink & Clay; Kellogg Art Gallery, 2016. 8th Annual Drawing Discourse Exhibition, University of North Carolina Asheville, 2017. Juror: Scott Noel.