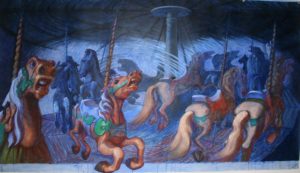 Oil and Pastel, 70″ x 138″
January 2016
This image was inspired while drawing for several hours as the carousel at Griffith Park spun around and up and down. Form was developed only until it began to interfere with motion. Objects were allowed to disintegrate and dissolve into one another.
Initially the bottom of the image was going to be cut off, but the dripped paint added energy. The boundary between illusion and materials blurs as the logic with which we try to construct our world falls apart.
One must consider the difference between actively breaking out of an intolerable situation, and being swept along passively by the eruption of massive discontent. Which will it be?
This painting is currently on display at the Merry Go Round Museum in Sandusky Ohio. It was also displayed at the Pasadena Museum of History, and the University Art Museum in Long Beach in 2016.