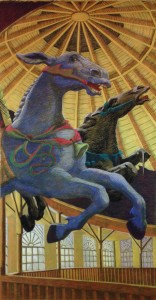 Pastel, 101″ x 52″
August 2015
This drawing is an oversimplification of the many lights and shadows on a carousel, which occur between competing artificial and natural lights, not to mention reflections everywhere! Cooler, darker animals in the foreground were selected against a warm background light, with a cooler natural light coming in through the windows.
The architecture was inspired by the Santa Monica Carousel and the animals were drawn from the Running Horse Studio Collection in Irwindale.
Blue Mule is currently on display at the Merry Go Round Museum in Sandusky, Ohio. It was also displayed at the Pasadena Museum of History in 2016.